In these current times, we are unable to particpate in our usual sporting competitions... and it's really hard! Therefore, it was an absolute delight to welcome Mrs Henderson from Longcroft School to Lockington in order for everyone in class 2 to have the opportunity to take part in a cross country competition. After a rigorous warm-up, the children took part in a race around the field: 1200m for the older pupils. I was so proud of every member of the class as they all completed the course.
In Year 3/4, Aliza was the fastest girl and Jensen raced home for the boys. The older pupils completed their laps with Teddy taking the boy's crown and Eliza winning from the girls.
We were then presented with a fabulous set of large circuit cards for use in our PE sessions. It seemed the perfect time to try them out and set our own personal challenges.
We absolutely love our history lessons in class 2. October has had a special significance, as Britain celebrated Black History Month. The children worked with great enthusiasm as Miss Janicki led them in sesions which explored the Windrush generation and then gave them the opportunity to work independently to research an influential figure who they deemed to have helped shape an aspect of history. At the end of the day, I was delighted to be their audience for some truly insightful presentations. Chosen subjects were: Muhammad Ali, Chadwick Boseman, Mary Seacole, Barack Obama, Katherine Johnson and Stevie Wonder.
Class 2 welcomed Owen Denovan, PE coach and mentor, into school on October 14th. We enjoyed an action packed morning learning how many different ways we could use both mathematics and English in an active way: spellings, grammar, vocabulary, multiplication, factors and multiples, all were tackled. In the afternoon, we all learnt how to break down the small steps needed to complete the triple jump. Everyone was very successful and had a hugely enjoyable day.
What a beautiful day to take a walk to the church and celebrate the Harvest Festival! On October 7th, class 2 joined Rev. Carol at St. Mary's Church, Lockington to recognise the importance of the farming community and give praise for our food, families and friends. Poems were recited, prayers were shared and we found out all about the journey of the humble frozen chip... from the nearby McCain's factory in Scarborough.
It may have been an unusual celebration this year, with no class 1, parents or singing, but we all realise how the harvest is a Christian festival which is a crucial part of the church's calendar. We gave thanks for all we have and showed our community spirit by donating many items which will be taken to William Booth House in Hull. It was a lovely service and the pupils were, as always, wonderful ambassadors to the school.
During Lockdown, one of our home learning tasks was to show our community support for the annual Driffield Show, or in this year's case, 'Not the Driffield Show'! The usual competitions became virtual and we were extrememly proud when Lockington pupil's were awarded the highest places in the art category. These talented children had made the most of their home schooling experience and fully engaged in the tasks set. Well done to Isobel, Teddy, Heidi, Oliver and all those who entered.
The full results can be seen by visiting the Show's page
https://www.driffieldshowground.co.uk/copy-of-handicraft-section-results.
It has been an immense pleasure and privilege to work with four amazing young ladies over the past years at Lockington.
Our year 6 pupils are now ready to move on to the next stage of their journey but we couldn't be prouder of them.
What strange circumstances in which to leave primary school but their optimism and cheerfulness have helped us all to enjoy the last weeks.
Good luck, girls!
Our 2020 Leaver's Assembly was slightly unusual this year yet we all enjoyed celebrating the achievements of the girls. We are incredibly proud as both Daisy and Clemmie were awarded prestigious honours in the Annual Sports Partnership Awards which, under normal circumstances, would have been presented at a celebration evening with a well-known guest speaker in attendance. However, we can still announce that Daisy was chosen from all the schools in the area to receive first place in the category of 'Volunteering and Leadership', whilst Clemmie took second place for 'Outstanding Individual Performance in PE'. What an achievement for our small school!
Isobel, who has been the backbone of every sporting competition she has been eligible to enter into, was awarded our school trophy in recognition of her invaluable contribution to PE. Heidi received a special medal for her dance.
Those back in class at the end of term used their artistic talents and lots of paper straws to make their own representation of the great Parthenon. This temple on the Acropolis was dedicated to the goddess Athena, whom the people of Athens considered their patron. It was a stunning end to our topic all about the Ancient Greeks.
The past few months have been a roller-coaster for us all. Each week, each day, brings new challenges. Isobel wrote a poem to express how she felt and has allowed me to share it with you. What a wonderful piece of literature which sums up what 'Lockdown' has meant for one of our Year 6 pupils. Thank you, Isobel.
What a week of artistic excellence! In preparation for our Greek myth writing, we have been creating mythical beasts to feature in our quests. Some were painted in school and others sent in to us via email.
In class on Friday, we also turned our hand to needle craft to produce parabolic curve designs. Don't they look amazing?
We have so much to celebrate this week and such a lot to look forward to.
I am delighted to announce that both Isobel and Harry completed the Lexia reading programme this week. It is a fabulous achievement which took hours of dedicated learning. I am incredibly proud of you.
Anna came back to school and worked her socks off, determined to get a certificate which she did! Teddy has also been amazing with his Lexia study, so much so that I have had to halt his progress now so that he has some to do in Y5!
Others using the site this week include: Amelia, Gabriel, Lily, Eliza, Heidi R, Daisy, Clemmie and Heidi H.
IXL certificates were gained by: Gabriel, Harry, Kieran, Heidi R, Ava, Clemmie, Heidi H, Daisy and Isobel.
Excellent Purple Mash work has been completed by: Isobel, Daisy, Eliza, Ava, Harry, Teddy, Aliza, Gabriel, Kieran, Esther, Clemmie, Lily, Heidi H, Heidi R, Amelia and Anna.
What a mixture we've seen this week of scorching sun, driving rain and sensational storms! None of it has put off the work of Class 2 though as more certificates have been gained and progress made.
Heidi H came back and worked her socks off to get our only Lexia certificate of the week. However, there is some healthy competition in Y5 to complete the programme and the following children have all spent time on the reading site too: Daisy, Isobel, Clemmie, Harry, Heidi R, Teddy, Anna and Amelia.
IXL is still being used by many and impressive certificates were awarded to: Ava, Eliza, Esther, Kieran and Harry.
The Purple Mash games continue to keep everyone busy. It is a great way to have some contact with your classmates. The maths 2Dos were tackled by many of you but not all were recorded (you need to click the 'hand in' button!)
I have added some of the brilliant photographs of Ancient Olympic sports poses; some from school and some from home. Can you guess the Olympic event?
Well, the weather may have failed to impress us this week but the same cannot be said for the hard work of Class 2.
At school, some are busy trying to catch up with the Lexia excellence which they have seen demonstrated by classmates at home. You have certainly encouraged them and thus there were certificates this week for: Daisy, Clemmie, Teddy and Daisy with lots of Lexia work also carried out by Isobel, Harry and Gabriel.
The IXL achievements are as impressive as ever and I am thrilled to award them to: Kieran, Clemmie, Isobel, Amelia, Teddy, Eliza, Ava and Heidi R.
There has been a lot of Purple Mash action this week. Well done to: Aliza, Teddy, Isobel, Amelia, Clemmie, Daisy, Esther, Eliza, Gabriel, Harry, Kieran, Ava and Heidi R. Some of you caught up on previous 2Dos which is very conscientious and much appreciated, whilst many tried their hand at game design. I have moved all the games into the 'Computer Games' folder in the 'Work' section. Here, everyone will be able to play them Check the 'Shared Blog' as there are some lovely messages from your classmates as they have enjoyed your work. Please add to the comments.
Hopefully the sun will shine next week and we can all return to outdoor activities.
Take care, everybody.
Although some pupils were able to return to school this week, we still miss everyone else and really appreciate the hard work you continue to do at home. In class we are following the same tasks as on the home learning tab so no-one will be missing any new or different work.
Lexia has been accessed by Amelia, Esther, Gabriel, Harry, Daisy, Clemmie and Teddy this week. Isobel worked incredibly hard and achieved a certificate.
Well done to Ava, Heidi R, Esther, Harry, Kieran and Gabriel who all received certificates on IXL.
Following a conversation with The Parkinsons, we also watched 'Joseph and the Amazing Technicolour Dreamcoat' and I have included the art work produced in school and at home by Eliza, Gabriel, Teddy, Daisy, Amelia, Kieran and Clemmie. I can add any more which are sent to the school email.
Thank you for another week of wonderful work and superb achievements.
I will start with a fabulous announcement, Kieran has completed Lexia! It has been amazing to watch his progress throughout lockdown but this really is a spectacular result. Hot on his heels is Harry who is now on his final level too. Great work both of you, I am incredibly proud. Others using the site this week and doing lots of practice are: Amelia, Esther, Gabriel, Teddy, Heidi R, Heidi H and Isobel.
IXL certificates are continuing to impress: Harry, Eliza, Kieran, Heidi R and Ava.
I have enjoyed looking through the art work on Purple Mash this week and I'm really proud of those pupils who have taken the time to catch up on learning from earlier weeks too. It shows determination and real self-motivation which are fantastic life skills. Well done to: Esther, Kieran, Ava, Harry, Eliza, Gabriel, Heidi R, Daisy, Hollie and Clemmie.
I hope you are all ready for half term. It may seem like every other week but really try to have a break from screens and enjoy lots of exercise and, hopefully, sunny garden days. Last week had been busy for many of you and I am constantly blown away by your dedication, inspirational ideas and hard work. Remember how proud you make me and how much I miss you all.
Lexia certificates this week go to Ted and Kieran, but Heidi H, Isobel, Eliza, Ava and Harry have also been doing lots of practice on the site.
Our IXL champs are: Aliza, Eliza, Harry, Gabriel, Esther, Clemmie, Kieran and Heidi R. There are some amazing achievements in learning happening.
Purple Mash was well used this week and some of that geography was tricky. Super work Hollie, Gabriel, Eliza, Harry, Isobel, Kieran, Esther, Teddy, Aliza and Amelia.
Kieran, Heidi H and Heidi R have logged in to Sumdog this week too.
I have particularly enjoyed receiving emails and photographs this week sharing such a range of work from sunny outdoor science experiments, Driffield Show art entries, friendship speeches, gardening, reports and poetry. Thank you to Henry, Gabriel, Ava, Heidi R, Eliza and Heidi H.
Finally, an enormous well done to Heidi H and Amelia who both took part in the Humber School Games Isolation Dance Competition. I am so thrilled that our school's sporting reputation is being upheld through these difficult times. I cannot wait for the dance montage to be uploaded with clips of you both taking part. The girls' certificates are pictured below.
Well done for this week's achievements, Class 2.
Lexia has been used by Amelia, Esther, Gabriel, Lily, Ted, Eliza, Kieran, Heidi H and Isobel, with Kieran collecting his third certificate in two weeks!
The best IXL achievement certificates have been chosen with literally thousands of questions being answered. Excellent work by: Isobel, Teddy, Eliza, Gabriel, Heidi H, Clemmie, Amelia, Kieran and Harry.
Musical masterpieces from Ava, Kieran, Harry, Isobel, Aliza, Ted, Esther, Gabriel, Eliza and Heidi R has been handed in on Purple Mash.
Amelia has been a lone ranger on Sumdog this week!
A final shout-out this week to Kieran who sent me a superbly commentated video of his sister, Chloe, completing a brilliant assault course in the back garden... ingenious!
Another week, another impressive amount of home learning to celebrate.
I was delighted to receive so many pieces of geography research about your chosen European country. Some used Purple Mash: Hollie, Eliza, Esther, Kieran and Gabriel, whilst others made me a PowerPoint: Clemmie, Aliza and Kieran (yes, he tried out both!) It was brilliant to read the facts and find out about such a range of cultures, well done.
The poetry recitals are keeping me entertained and I am sure we can all share them soon. So far, Eliza, Gabriel, Heidi H, Kieran and Clemmie have had me giggling away and marveling over some incredible IT skills.
Super certificates this week on IXL: Harry, Gabriel, Anna, Ava, Clemmie and Kieran.
Lexia champs are Heidi R, Gabriel and Kieran (with 2).
Heidi H is powering away with her Sumdog.
A special 'shout out' to Lily this week who has been working really hard on her home learning!
Keep up the great work as I really believe it keeps us close together.
Last week, I set an art challenge on the home learning tasks which was to send me one photograph which captured 'The Wonder of Nature in Springtime'. I am immensely proud of those of you who have submitted work; your images are stunning, varied and uplifting in this time of restricted outdoor adventure. Thank you all for brightening my day.
Enjoy viewing the pictures from your classmates, I do believe we have some true talent here... what an eye for detail and natural beauty.
Images: Orange Blossom (Eliza), The Home of the Tadpoles (Gabriel), Carpet of Bluebells (Harry), Baby Spiders Emerging (Heidi R), Ant on a Leaf (Kieran), Waiting for the Butterfly (Heidi H), Springtime Shire Horses (Amelia), Scuttling Squirrel (Ava) and Pink Blossom (Daisy).
It's that time again... Friday's Achievement Assembly (virtual of course!)
Lexia certificates this week are awarded to Ava and Esther. Brilliant work girls.
As usual there was lots to celebrate on IXL so I have selected the most impressive achievement for each user: Aliza, Anna, Ava, Clemmie, Eliza, Esther, Gabriel, Harry and Kieran.
I would also like to give a special mention this week to two young ladies who I am particularly proud of: Esther and Anna. They have made a huge effort to engage with the home learning recently and will really benefit from this. Keep it up!
The PE challenge has been achieved by Daisy and Kieran. Have a look at the fabulous video on the post below this one.
Also, I have a few pictures in for the spring photography task (well done Eliza and Gabriel!) but would like some more and then I will present them on the website.
The spin and catch PE challenge was launched this week and Daisy had sent this video into school by 9:30am on Monday! Now, that's dedication and she's in her PE kit too. I love the way she takes a quick look up at the ceiling before the task as if she's assessing the risk. Personally, I would have opted for the safety of the garden! The dog could have look slightly more impressed.
So, the boys have got on board with the challenge too! Sensibly, both Kieran and Harry have attempted their spin and catch in the garden. Superb skills!
Welcome to our virtual Achievement Assembly for Friday 24th April.
As many of you worked on learning sites during the Easter break, there are lots of certificates to view. IXL is still one of our most popular sites with hundreds of questions being answered. I have selected some of your highest achievements to celebrate today.
Lexia should remain a priority as it really does address so many aspects of reading. A huge congratulations to Kieran, Aliza and Amelia for moving up at least one level. Let's try and have some more of you joining them.
This week's Purple Mash challenge was a home learning story. Eleven people tried this and it was a tricky project... I know! So, well done to Clemmie, Aliza, Anna, Harry, Isobel, Amelia, Heidi H, Gabriel, Kieran, Daisy and Eliza.
I have added some beautiful rainbow pictures and Easter gardens to the posts below.
During the Easter break, I asked if you could create a miniature Easter garden. Let's see how many can be shared on our class page. This was one I made with Ziva just before the holiday and there is a beautiful garden from Amelia.
It is always wonderful to receive work carried out independently and without actually being prompted by a teacher! Aliza spent the first two weeks of her lock down writing, editing and publishing this great story. Enjoy...
The RAINBOWS are arriving! Well done to the first ones from Class 2: Amelia, Aliza, Daisy, Eliza and Gabriel.
In school, Ziva and I worked hard on two school rainbows. Each day we got a little more ambitious and a lot bigger. If any of you walk or ride past school on your daily exercise, you should see our work.
Despite the current situation, Easter remains one of the most important times in the Christian calendar. Watch the video below for a poignant reminder of the true meaning of this celebration of faith.
Watch it together with your family and say a little prayer of thanks for the love you all share.
https://youtu.be/nhFBX5ZSySo
Paddington has spent this week making new friends because he's missing seeing you all.
He went out into the garden and helped to feed the birds and then popped in to see Smudge in her cage.
If you're missing everyone as much as I am, I think I have found a way we can chat. On your Purple Mash home page, click on the 'Sharing' tab (the green world). On here, click the 'Shared Blogs' tab and you will see a little picture of Paddington called 'Home Learning Blog', if you click here you can join in a chat with all of the class. Remember, keep your comments kind, happy and supportive. You can also upload photographs of the work you have done or your home adventures!
Welcome to our virtual Achievement Assembly for Friday 3rd April.
This week, on Purple Mash, the following pupils have completed and handed in their maths work: Aliza, Amelia, Clemmie, Daisy, Harry, Hollie, Kieran and Lily. Brilliant work guys and, the rest of you, the work is still there on each of your home pages if you click on the 2Do or Alert tab.
On Sumdog, Clemmie is topping the leader board for the Measures Challenge (there are still a few days left on this though!) Joining her on the site this week have been: Kieran, Harry, Heidi H, Amelia, Heidi R, Ava, Daisy, Ted, Eliza, Aliza and Gabriel.
Lexia and IXL certificates are pictured below.
A HUGE WELL DONE to the following children who, since the start of home schooling, have worked on all four of our sites to improve their learning... best thank those brilliant parents too!
KIERAN, CLEMMIE, DAISY, HARRY, ALIZA, ELIZA and GABRIEL

.
Have you seen all the rainbows displayed in people's windows? Maybe you have already done one to put up but, if not, that's one of your tasks on the 'Home Learning' tab for this week. They are a symbol of hope and peace and intended to cheer everyone up at this difficult time.
Remember, if you have any issues with accessing documents or 'handing in' work on Purple Mash, just email school and we will try and help you out.
Also, look below for Class 2's very own Friday Achievements' Celebration.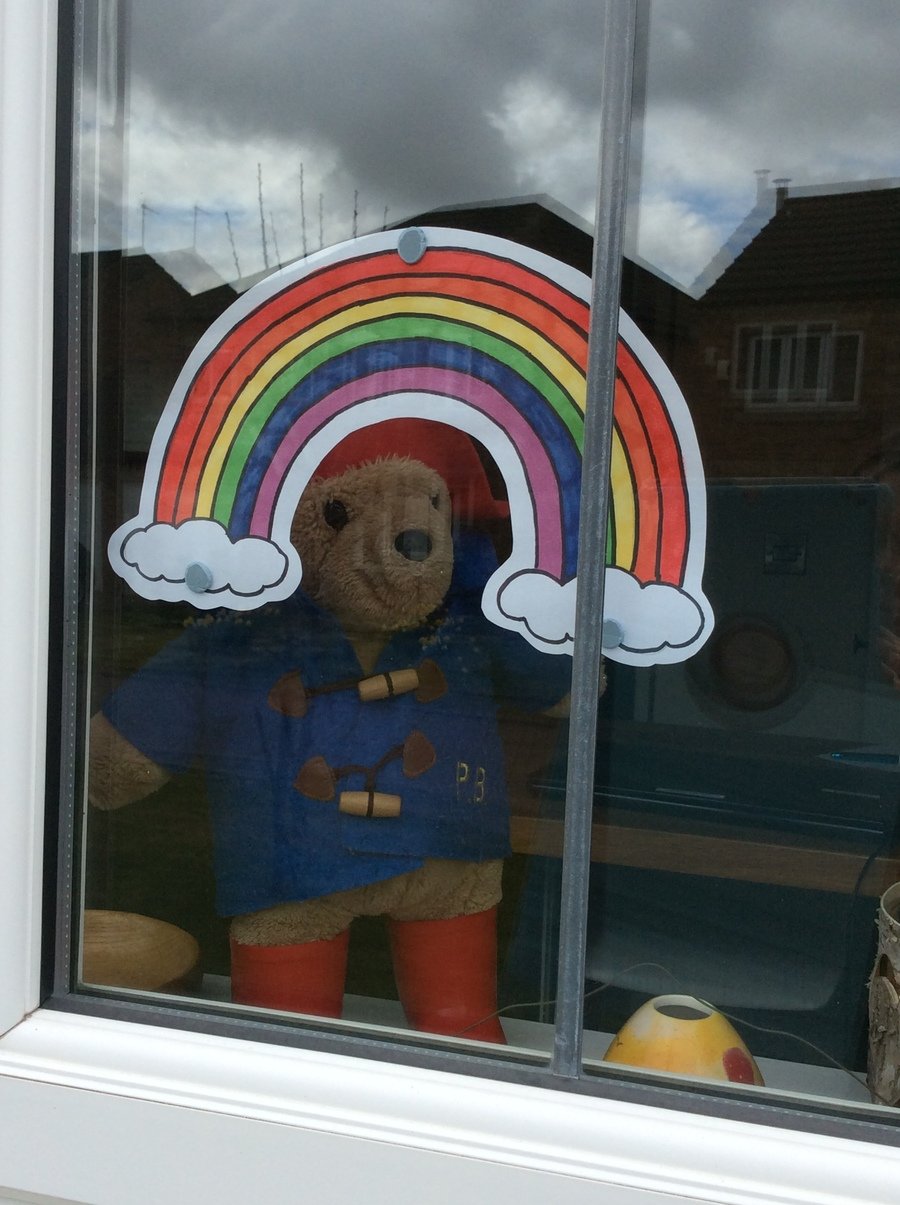 As we won't be able to celebrate achievements together each Friday, I wanted everyone to know that their hard work was still being appreciated and allow it to be shared with the rest of the class. Therefore, each Friday evening, I will be checking Lexia and IXL for certificates, looking to see who is top of the leader boards for tasks set on Sumdog and giving a shout out to those whose work has been edited and thus uploaded to the display board on Purple Mash.
Rest assured, your efforts are always noticed and Paddington and I are incredibly proud of you!
Check out this week's stars...
Aliza, Heidi H, Amelia, Clemmie, Lily and Kieran all corrected and edited their science work on Purple Mash and it is proudly hanging on the virtual display board.
On Sumdog, Amelia is currently top of the Reading Challenge and Harry leads the Maths Challenge. Great work!
Lexia and IXL certificates were awarded to Aliza, Eliza, Clemmie, Harry, Kieran, Gabriel, Esther, Amelia, Isobel, Ted, Ava, Heidi R and Anna.
So, Paddington has come home with Mrs Trueman! First of all he tried to help with the decorating but he got into bother with Mr Trueman when he got white paint on his wellies and walked across the carpet! He decided it might be safer to go and help in the kitchen with some school work. Check the Home Learning tab to find out what he'd like you to do this week. It will be updated as begin to settle into our new routine. Remember to keep washing your hands.
What an amazing time we had at Lockington raising money for some really special causes during our Sports Relief Day!
In the morning, the School Games Crew were presented with their brand new T-shirts and proudly led the rest of the school in a Fit Friday Frenzy. This was an introduction to our brand new personal fitness circuit training resource which has been added to our playground environment. Everyone challenged themselves in hula hooping, squats, skipping and wall push-ups, to name but a few.
After lunch, we joined together in the school hall for our brilliant session of 'Dance Yourself Dizzy!' During this time, our huge medals were filled with the generous donations.
A grand total of £118 was raised. Thank you all for a fun-filled day.
Our humanities project this term has incorporated history and geography within a study of the local area. Much of our work has been in preparation for a local history exhibition which we held in the school hall. It was wonderful to share our research techniques, use of primary and secondary sources and new knowledge with so many family members and friends. We had a superb afternoon and all learnt from each other. The pupils gave a short presentation before taking up their positions at different exhibits to convey their learning and often add to it with wise words from our visitors. This was a real example of shared experiences through different generations. Everyone joined in the quiz devised by two of the children which ensured that each table was truly scrutinized for information. Well done to Ted and Isobel's grandma who won the chocolates!
Every week, the pupils from Lockington School take the lead in morning worship. They work in small groups to deliver the short service which includes a welcome, story or short play (linked to Christian values and beliefs), hymn and prayer. The children take great pride in this responsibility and it allows them to grow in confidence as well as take ownership of their worship time.
On Tuesday 14th January, the whole school had the amazing experience of working on a disability awareness scheme with 'Go Kids Go!' It was an invaluable insight into the world of wheelchair uses: their challenges, abilities and opportunities. Everyone had the chance to negotiate the hall as a wheelchair user and take part in competitive games such as, 'Duck, Duck, Goose!' The pupils from Class 2 commented on their workshop;
'I really enjoyed trying to use the wheelchair but it was quite hard to move it!'
'I learnt that if I meet a wheelchair user, I should ask if they would like help before I assume they do.'
'Today has shown us that everyone can do sport but it takes lots of practice.'
During the half term break, the children from Class 2 worked on a project to produce their own interpretation of Stonehenge. They could make their model as realistic or abstract as they wished. As always, the results were amazing. Every building material imaginable was used (and some we would never have imagined!) Stonehenge was recreated in stone, clay, wood, Lego, spectacles, pastry, salt dough, biscuits, chocolate cake and Weetabix! What a thoroughly creative class! Once again I would like to thank the family support these children receive; it takes home-school learning to a new level.
Years 5 and 6 took part in some important training on Thursday November 7th when Sarah Moon visited Lockington to deliver a 3 hour Mini Medics course. The group were attentive, enthusiastic and active in their learning. Using the mnemonic, DR ABC, they easily recalled the steps to give immediate aid in an emergency: look for DANGER, check for RESPONSE, open the AIRWAYS, check BREATHING and, if necessary, perform CPR. Sarah praised our superb students for their knowledge, thirst for learning, self-confidence and ability to encourage each other. Another proud Class 2 moment.
On Tuesday 22nd October, Class 2 spent the afternoon with Adam and Brian from East Riding Sports and Activities taking part in some exciting 'Outdoor Adventures'. It was a superb opportunity to extend our initial work on shelter building as part of our history topic. This time, the pupils were given a plastic sheet, 4 ropes and 4 tent pegs to try and construct a shelter which would protect them from the elements. The teamwork and problem-solving skills were exceptional and each group produced a different idea to share and discuss. I wonder if anyone can spot Ted's curious friend in the hedge!
We then moved on to orienteering which brought out the best in their abilities to communicate, encourage and support each other. It was a real privilege to stand back and watch these fabulous young people work together.
In a final, and greatly anticipated, activity, the pupils tried their hand at fire lighting by creating sparks with a lighting steel. Everyone was successful and rightly proud of their achievements. I'm sure their Stone Age ancestors would have been proud.
An amazing afternoon was spent as Class 2 welcomed incredible author, Saviour Pirotta to share his wisdom and passion for stories of adventure. He told tales of his childhood in Malta where he grew up playing football in ancient temples and creating fabulous characters for wildly imaginative stories. We laughed, gasped, grimaced and admired our way through an afternoon of pure inspiration. His current book, The Stolen Spear, was a perfect fit for our history topic. After learning a creative formula for writing, we are excited to try our hands at becoming authors of historical adventure. What a complete joy for us to receive some lovely compliments back from the writer himself as he enthused about our unique school and our engaging, exuberant children.
Class 2 began a topic on 'Stone Age to Iron Age' by deciding on the priorities of early man's survival. Each group was in agreement that in order to be safe from the elements and potential predators, then a shelter was of the utmost importance. To really get into the mindset of this early civilization, we took to the 'woods' and spent an afternoon creating our own shelters for Paddington! It was a chance to explore natural materials, learn skills of building, weaving and foraging, and partake in some wonderful team-building, cooperation and leadership challenges. As you can see, we certainly made the most of Lockington's amazing environment.
The pupils from Year 6 attended a special service by Archbishop Sentamu, at Beverley Minster on Monday July 1st, accompanied by Mrs Cattle, Mrs Vandepeear and Mrs Bugg. They took part in a range of activities to encourage them to think about their hopes for the future as they move on during this important transition period. The roof was raised by some wonderful singing, with the Archbishop himself playing the backing instruments!
What a fabulous experience Class 2 had when we visited Tophill Low Nature Reserve. Margaret led the fascinating workshops and helped us discover numerous species in different habitats. Whilst pond-dipping, we used nets and magnifiers to marvel at the wide variety of water creatures. By following scientific identification charts, we were able to name almost everything we caught. Back in the classroom, we had lunch before setting off on a woodland walk; who knew there were so many different shades of green to observe. After some tree identification, bark rubbing and seed gathering we were delighted by the appearance of a grass snake... it didn't stay around for long! This beautiful site, right on our doorstep, is well worth further exploration.
Following Class 2's visit to Tunstall Healthcare last term, teams of budding entrepreneurs have been busy designing a new project aimed to help those with individual needs live safely in their own homes for longer. We invited Mr Honeysett and Mr Avery into school to be presented with our ideas. In a 'Dragon's Den' style session, each team delivered their 'pitch' to see if their design would interest our experts. Keep checking our class page to find out which team was victorious. The winning design will be announced at the Achievement Assembly on the last day of term.
Our topic, 'Romans in Britain' came to a creative conclusion as we investigated the impact that this empire had on our country. The legacy of the Romans included many marvelous feats of engineering such as central heating, public baths and toilets. However, the striking structures of ancient aqueducts gave us the perfect opportunity for some home-school learning. Our project was to design and make an aqueduct to carry approximately 50 ml of water a distance of 30 cm, 15 cm from the ground. The choice of building materials ranged from Lego to wood to card to plastic. Each was unique but had one wonderful aspect in common, a valued partnership between parents, grandparents and pupils. Thank you for your continued support.
What a fabulous World Book Day we had at Lockington. So many children enjoying the stories, illustrations and lives of some of our most influential authors. Look at the range of costumes and characters represented.
Class 2 have been thoroughly enjoying using the school gym equipment. Balance, agility and weight transfer have all been major factors in perfecting our routines.
What fabulous weather we enjoyed during the our two days learning 'Bikeability' skills. The pupils of Y 5 and 6 worked hard to master practical safety manoeuvres and answer theory based questions.
Class 2 pupils are thoroughly enjoying their PE unit on 'Step Aerobics'. We have one fitness step (thank you, Mrs Turner) but the mats are great to use as a focus for our feet. Some pupils have advanced to fitness instructor level to give Mrs Trueman a break. The use of our fitness trackers, from the SSP, are allowing us to set personal challenge and record our steps each week.
The RSPB Birdwatch took place on January 25th. Class 2 spent an hour observing and recording the different types of birds we saw in the school grounds. It was lovely to see the many varieties of small garden birds that visited the pond area, using the bird feeders. Particularly, we were excited to see two robins hopping around together as they are usually lone birds, fiercely territorial. Our collected data was sent to contribute to the national survey.
What an amazing day Y5 and 6 pupils spent at Tunstall Healthcare on Thursday 29th November. The visit, organised by Mr Honeysett, allowed us to discover the innovative designs and products made to give people longer independence in their own homes. We were fascinated by the advances in technology and the inspirational ideas which help our older citizens or those with specific needs. A tour around the factory enabled us to see the full manufacturing process which relies both on robots and humans.
Our next task, as young engineers, is to design our own product of the future... watch this space!
Thank you Mr Honeysett and the two Kevins for a brilliant experience.
Class 2 pupils have worked incredibly hard on their Enterprise Project for the Christmas Fair. It gave everyone the opportunity to decide upon product design, appropriate resource management, pricing, costing, quality control and marketing. Calculating profit margins allowed us to really appreciate the value of items and we will decide, as a class, how this new budget will be best spent. Our stall made £139... Happy Christmas!
Year 6 parents may view the PowerPoint presented at the recent SATs meeting held on Tuesday 27th November by clicking on the document below. Please pay particular attention to the date of the tests, week beginning 13th May 2019. The final page of the PowerPoint has some very useful, free Internet resources which help to make revising fun!
The children from Years 5 and 6 enjoyed an exciting day of discovery at Hull Collegiate last week as they took part in the annual STEM (Science, Technology, Engineering and Mathematics) day.
As always, the pupils were an absolute credit to Lockington as they were repeatedly complimented on their manners, interest and enthusiasm.
We learnt about the opportunities for girls in engineering (and our girls are VERY keen), the mechanics of flight, the electronics involved in circuits and had a fascinating look at real dinosaur bones! Many thanks to all the companies and STEM volunteers who made this an amazing insight into the world of high industry.
We are immensely proud of George and William who spent much of their summer working on their Lifestyle project as team 'Lund Lifestyle Turbo Twins'. The boys raised a staggering £850 for Cancer Research UK and Yorkshire Air Ambulance by clearing gardens, stacking logs and organising fundraising events. their efforts were recognised at a presentation at Hull's City Hall where they received a prize of a celebratory track day. A brilliant achievement, boys.
Stunning shadufs created by class 2 as homework during our Ancient Egyptian topic. Once again, the ingenuity and variety are staggering. Well done to all who helped.
'We will Remember Them.'
Class 2 pupils have shown maturity, respect and compassion in studying the Remembrance Day centenary this week.
Whilst discussing recent documentaries aired on television, I was encouraged by their interest and found that many had watched the programmes at home and had insight from the conversations taking place with parents and grandparents.
Together we viewed images of our brave men and women as they faced the terrible conditions when serving and caring for soldiers in the trenches of World War 1. The children worked as a class in devising phrases to verbalise their thoughts. These were then used to create the following poignant kennings poem.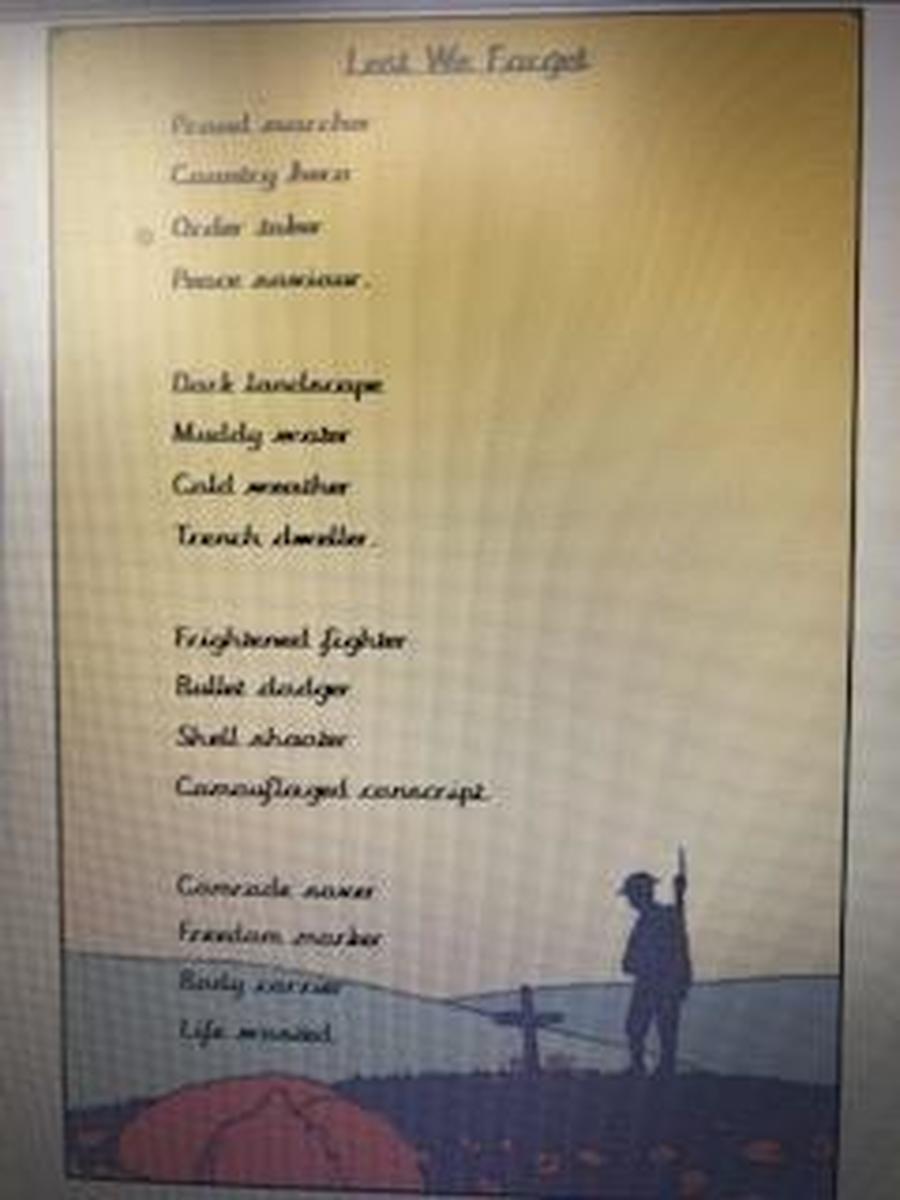 'Hands on History' certainly brought our amazing Ancient Egyptians history topic to life. Class 2 is fascinated by this era and, in particular, everyone has been engrossed in the process of mummification.
At the Hull and East Riding Museum, we were able to walk back in time through different periods in history to allow us to see how

the Egyptians fit into the development of the world and its people.
The workshops at the Hands on History museum then allowed us to investigate the wonders of this ancient civilization in depth. We handled replica artifacts to determine their uses and value to the people of ancient Egypt, becoming Egyptologists ourselves, just like Howard Carter! We then met a real mummy in a darkened room which was a true highlight of the visit. To further understand the process of mummification, we performed our own ritual on a very willing 'victim'... Isobel!
Thank you to the wonderful 'Friends of Lockington School' for helping to make this visit possible. We had the most spectacular time!
Our 'Forces' topic has got off to an uplifting start! We went outside to investigate the affects of air-resistance by predicting how different sized 'shields' would have an impact on our speed and ease of running. The results of this practical experiment then allowed us to develop various designs for parachutes which we thoroughly enjoying testing out. William made an amazing canopy which impressed us all.
Using a newton meter enabled us to investigate the link between measuring mass and weight. We learnt that an object with a mass of 1 kilogram would weigh approximately 10 newtons on Earth.
Everyone had a fabulous first night and we even had to wake a few rooms up this morning!
After a super cooked breakfast, we have been raft building and braved the giant swing. We are having the best time ever and our team work and friendships are impressively strong.
We have safely arrived at a very sunny Caythorpe with excited children!
So far we have enjoyed the team challenge and archery. After refueling at dinner (they all ate up well) our current activity is an extremely energetic orienteering challenge....Oh, they'll sleep tonight!
Come on let's crawl.... to the ugly bug hotel! Class 2 spent their half term break building the most magnificent mansions for minibeasts. Mrs Turner was very impressed with the effort, care and variety of materials to entice our valuable invertebrates into our gardens. It will be a tough decision, but two of these lucky pupils will join her at this year's Driffield Show to enter the primary school competition. Well done to all who took part.
At Driffield Showground, years 5 and 6 spent a fabulous day learning about local agriculture and the services provided in our community. We met some very interesting characters and animals! Activities included sheep shearing, milking, grain sorting, road safety, recycling and even sausage tasting!
What an amazing term we had learning with Miss Millar! She has been an inspiration and we wish her all the luck in the world as she begins her new chapter as a real teacher! These are just some of the experiences we shared: World Book Day, making dream catchers and DT projects with moving rainforest creatures.
During the February half term break, Class 2 were busy working with siblings, parents and grandparents constructing their own Mayan stepped pyramids. How original and unique each one is. The talent, enthusiasm and imagination of our pupils and carers never fails to impress us here at Lockington. Look at the wonderful range of models made from cardboard, wood, play dough, Lego, cushion foam (she did ask first I believe!) and even sugar cubes!
Our Mayan topic was brought to life when we went on an amazing visit to York's Chocolate Story. This mouth-watering journey took us back in time to discover how the Mayan Civilisation made the very first chocolate drink from their precious cocoa beans. We then travelled through centuries and decades to find out how the entrepreneurs of York became some of the finest chocolatiers in the world. The visit took a tasty turn when we became professional confectionery tasters and made our own chocolate lollies. In the afternoon, we once again immersed ourselves in Mayan culture as we ground cocoa beans, followed an ancient recipe and prepared a chocolate drink of our own. A fabulous time was had by all!
Years 3 and 4 are busy studying teeth and the digestive system so it was with great excitement that we were able to learn more about the importance of oral health from Mrs Quarmby, our 'expert in residence!' Together, we looked at the structure of our teeth, the functions of different parts of our mouths and how to take greater care to ensure we keep our smiles beautiful and healthy. This visit helped us with the theory needed for our scientific enquiry later that day.
All the pupils from years 3 and 4 participated in Junior Pedestrian Skills training this week. Julie, from East Riding Council, delivered a presentation to everyone and then took small groups outside to put their safety skills into practice. Everyone completed the programme and was awarded with a certificate, information pack and a reflective keyring.
In January, we were delighted to welcome Mrs Holland into Class 2. She brought in artefacts to help us understand what life was like in World War 1. It was a session full of discussion, investigation and active learning. Historical evidence comes in many forms but we all agreed that the learning we take part in physically and practically, has the most lasting effect. Thank you Mrs Holland.
Cross-curricular links have found us investigating perimeter and area through the design of Mayan pyramids. We looked for patterns and worked both practically and on paper.
Class 2 are very excited about starting a brand new topic; The Mayan Civilization. It is a brilliant learning experience for both pupils and adults as we are finding out new information and knowledge together! To set the scene we played some active games to find the 7 countries of Central America and then try and fit them in the continent outline. Eventually, with shared learning and peer discussion, we managed to name these countries. Can you test us to see if we remember them all?
After a very long and busy term, we are all ready for Christmas. No-one can set the excitement more than Daisy, who wrote all about her expectations in this super piece of independent homework. Her use of such a wonderful range of fronted adverbials has not gone unmissed! Read her lovely work to put you in the festive spirit and 'Merry Christmas' from all of us in Class 2!
Years 3 and 4 have been studying the Ted Hughes novel, The Iron Man. It is an amazing book full of vivid description including many similes and metaphors. At one point, we made our own versions of the story come to life through the written word. Oliver enthralled us with his tale which cleverly referred back to previous story lines and played on our emotions. Stunning work Oliver!
With great excitement and a little nervousness, we took to the stage at City Hall for the Longcroft Showcase. It was very fitting that we performed in the country's City of Culture. Our dance celebrated the joys of being young, healthy and happy. Eleanor and Alex, from Longcroft School, helped us with a routine which incorporated The Jackson 5, Matilda the Musical and One Direction. Bravely, Lydia and William introduced the school and the music started; it was high energy and immense fun. Three of our pupils also took to the stage to lead the way in the finale with their wonderful singing and dancing.
We welcomed Karen Wagg from East Riding's Recycling team. She shared her vast knowledge of all the ways in which we can help our county reach its recycling targets. We learnt about the brilliant ways in which our hard working council uses the waste we recycle in our brown and green bins.
In order to create some products for our Enterprise Project, Karen showed us how to reuse left over wallpaper to make gift bags. We even attempted making place mats from old carrier bags which was very tricky! Thank you Karen for the fun and informative visit.
(It really was an exciting activity and the process was not that scary, Daisy!)
As part of our topic work on 'Global Awareness and Recycling', we visited Tesco in Beverley on 14th November. Mr David Ryley, Community Champion & Farm to Fork Trail Guide, took us on an exciting journey around the store. We saw exactly how much recycling Tesco is proud to partake in, learnt about sustainable food production and found lots of products which were 'Fairtrade' or ' Rainforest Alliance' certified. Finally we were treated to a feast of fruit and cheese to decide on the products we preferred...all of them!
On Monday 6th November, class 2 welcomed registrars Mrs Hawkins and Mrs Green from East Riding Council into school. They helped us to discuss and explain British values and we realised that they are reflected in our own school values. We celebrated the area in which we live, solving clues to reveal beautiful landmarks and amazing heritage. Finally we learnt what a Citizenship Ceremony entails. Dalton and Lydia then conducted a mock ceremony and we all sang, 'God Save the Queen'.
How wonderful when exciting curriculum activities are followed up by pupils out of the school environment!
It was brilliant to hear that Ava and Heidi had visited Dinorwig Power Station with their Dad at half term. They were absolutely buzzing with their experience and kindly brought in a DVD of this astounding hydro electric power station which enthralled the other children and enhanced our current learning. Thank you!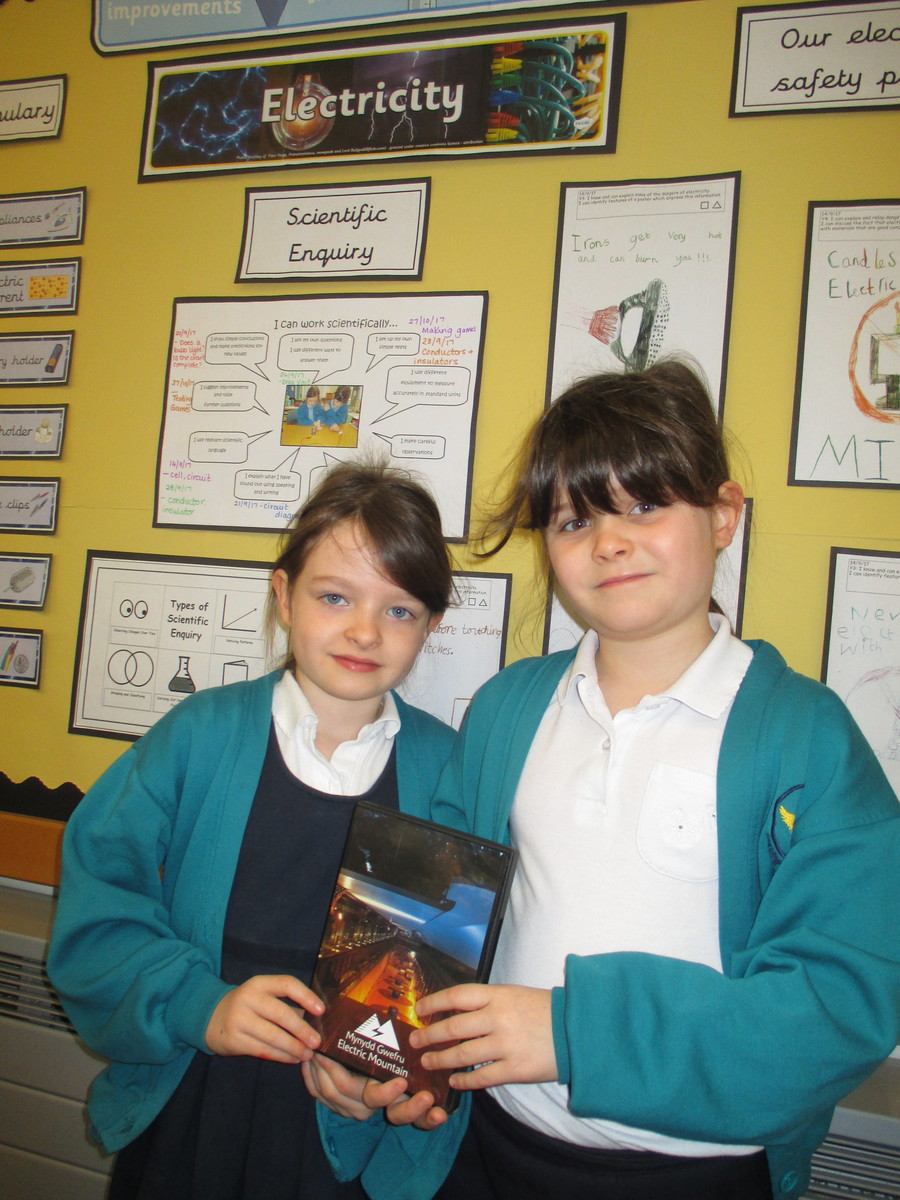 Our 'Electricity' topic has almost come to an end. We have learnt about safety, circuits, components and how to use scientific symbols. To complete our work and show our understanding, we investigated, designed and made electrical games. These were based on quiz games or tests of skill, and used bulbs, buzzers and even motors. We thoroughly enjoyed explaining our games to each other and then playing and evaluating them.
We improved our French accents today by playing Kim's Games with items found in a pencil case. Now we know how to change from 'a' to 'the' using the appropriate indefinite article..."Ooooh La La!!!"
On Tuesday 26th September, class 2 had a superb visit to Drax Power Station. We are learning about electricity in science and our environmental topic is making us question our earth's resources and how we can take steps to reduce waste. This was an amazing insight into the production of electricity in a power station which has changed from using predominantly coal as an energy source, to biomass for at least half of its fuel consumption.
Through an interactive model built by the pupils, we were able to understand the stages necessary in the production of electricity for our homes. We managed to light up the city!
Then, kitted out it full safety gear, we toured some of the plant, seeing first-hand how our energy is produced.
Getting out into the real world and experiencing such diverse environments really brings our curriculum to life.
In PSHCE, we worked together to see all the different ways we connect as a class. We have so much in common which is why we are such a great team!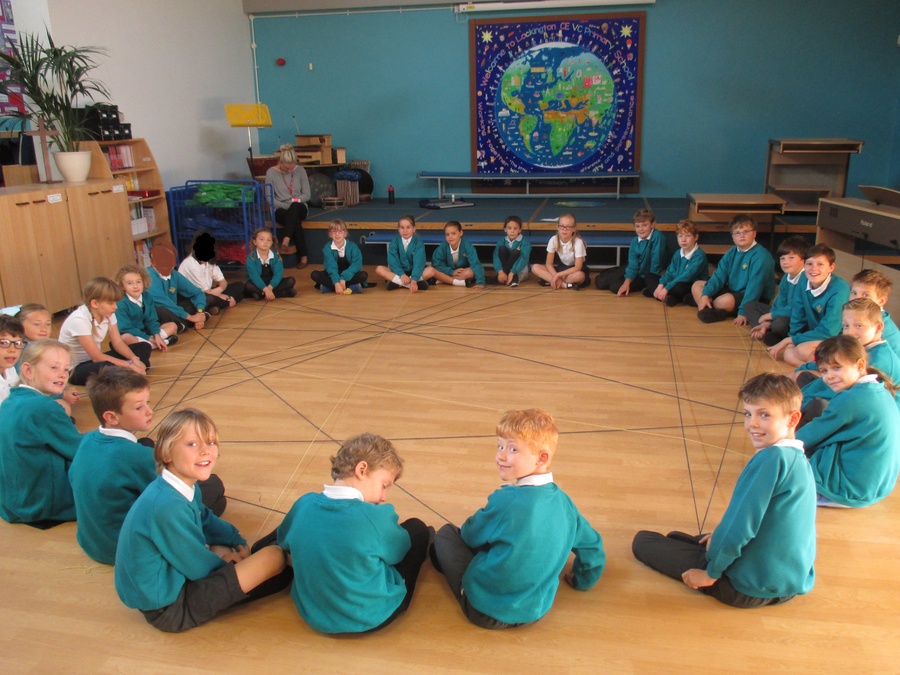 When starting our new science topic on 'Electricity' in years 3 and 4, we first had fun investigating!
What made these games work? Did they move? Was there a noise? Where did the power come from?
We will use this knowledge to make our own games using circuits later on in the term.
Our 'Vikings in Britain' topic came to an exciting conclusion with a fabulous activity day. Following research into traditional recipes, we made authentic Viking bread and 'mead'for our very own Viking banquet. Shields were designed, painted and used to adorn our dragon ship. We also learnt a poem which we recited to parents on the last day of term.
Ship Ahoy! Class 2 made a huge effort with this homework project to design and build a Viking longship. In many cases, all the family were involved and the materials varied immensely. There were ships mage of wood, cardboard, plastic, Lego....and even a marrow!
Mrs Singh came in to teach us all about Hinduism on our Cultural Awareness Day.
We acted out the story of Rama and Sita, dressed in traditional costumes and learnt a dance.
Weaving was a wonderful experience when we worked with a talented parent!
We designed and created our own tartan fabric after exploring textiles on the internet and using a simulation programme.
Class 2
Class 2 had an amazing afternoon of wonderful weaving when one of our talented parents shared her expertise with us. As part of our topic on Anglo-Saxons and Celts, we have been researching and designing tartan using our art skills and computer generated processes. We have then been able to transfer out designs onto individual looms; choosing weft and warp colours to begin our own creations. Watch this space for our finished fabric!
In January, Class 2 had a spectacular visit to the Yorkshire Museum to find out about the Anglo- Saxons and their impact on British history.
We met an Anglo-Saxon, called Oshere, who allowed us to examine many fascinating artefacts. To keep these precious items safe from damage and grease, we wore special white gloves.
Along with our very own guest historians, Mr Rodmell and Mr Vernon, we were able to try our hands at some Anglo-Saxon crafts and activities; weaving, braiding, silver work, ink and quill practice and original games.
Our experience was completed with a whistle stop tour of the museum which charters the history of York from pre-historic times, through the Roman occupation and onwards to the Anglo-Saxons, Vikings and Normans. We all agreed that there was so much to see and do, another visit was definitely needed.
On Monday, March 13th, Mr Steven Burgess from Lockington Village Improvement Group helped year 6 pupils to plant a range of hedgerow plants which were generously donated by the Woodland Tree Trust.
He kindly explained how to plant them and gave us valuable tips, we decided to plant them near the metal fence to help improve the appearance of the front of the school. Please watch them grow into a beautiful hedge
In class 2, our autumn history topic of The Railway Revolution has concluded with an amazing homework project. Just look at the range of engines made at home with some help from mums, dads and grandpas! They all fit on our track, made to exact measurements in DT. Some trains moved and some were even independent travellers!
~~~~~~~~~~~~~~~~~~~~~~~~~~~~~~~~~~~~~~~~~~~~~~~~~~~~~~~~~~~~~~~~~~~~~~~~~~~~~~~~~~
In November, we had a wonderful visit from Mr Marshman who shared his extensive knowledge on railways as he was a top railway engineer and has fascinating facts to tell. He brought us right up to date, in fact into the future, by telling us all about the Crossrail project. This amazing feat of engineering in set to open in 2020 and will provide a fast route under London. We went outside to mark out the size of the immense tool used to dig the tunnels.
Year 3, 4 and 5 enjoyed a visit to All Saints Church, North Ferriby
A Taste of History - Greek Day
We welcomed 'A Taste of History' into school on Friday 11th March. Everyone joined in cooking some fabulous Greek dishes including tzatziki (cucumber dip), souzoukakia (meat rissoles) and fakes soupa (lentil soup). The best part was when we all got to taste a whole range of traditional food which almost everyone tried… even the squid!
In the afternoon we created our own versions of the Parthenon in art and performed a dance of Theseus and the Minotaur to our parents. They even got to taste some of our Greek delights.
What a fantastic day!
The whole school has been learning about school values and we have decided to make our own Stained Glass Windows based on the School Christian Values.
One of our Year 6 students has reported on the progress Stained Glass Windows