On Tuesday 26th September, class 2 had a superb visit to Drax Power Station. We are learning about electricity in science and our environmental topic is making us question our earth's resources and how we can take steps to reduce waste. This was an amazing insight into the production of electricity in a power station which has changed from using predominantly coal as an energy source, to biomass for at least half of its fuel consumption.
Through an interactive model built by the pupils, we were able to understand the stages necessary in the production of electricity for our homes. We managed to light up the city!
Then, kitted out it full safety gear, we toured some of the plant, seeing first-hand how our energy is produced.
Getting out into the real world and experiencing such diverse environments really brings our curriculum to life.
In PSHCE, we worked together to see all the different ways we connect as a class. We have so much in common which is why we are such a great team!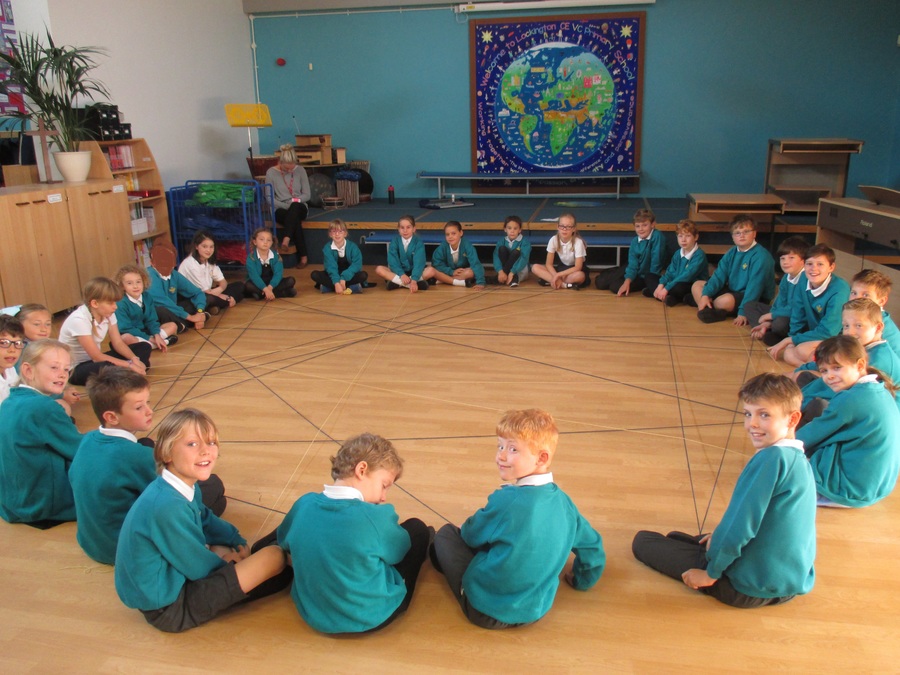 When starting our new science topic on 'Electricity' in years 3 and 4, we first had fun investigating!
What made these games work? Did they move? Was there a noise? Where did the power come from?
We will use this knowledge to make our own games using circuits later on in the term.
Our 'Vikings in Britain' topic came to an exciting conclusion with a fabulous activity day. Following research into traditional recipes, we made authentic Viking bread and 'mead'for our very own Viking banquet. Shields were designed, painted and used to adorn our dragon ship. We also learnt a poem which we recited to parents on the last day of term.
Ship Ahoy! Class 2 made a huge effort with this homework project to design and build a Viking longship. In many cases, all the family were involved and the materials varied immensely. There were ships mage of wood, cardboard, plastic, Lego....and even a marrow!
Mrs Singh came in to teach us all about Hinduism on our Cultural Awareness Day.
We acted out the story of Rama and Sita, dressed in traditional costumes and learnt a dance.
Weaving was a wonderful experience when we worked with a talented parent!
We designed and created our own tartan fabric after exploring textiles on the internet and using a simulation programme.
Class 2
Class 2 had an amazing afternoon of wonderful weaving when one of our talented parents shared her expertise with us. As part of our topic on Anglo-Saxons and Celts, we have been researching and designing tartan using our art skills and computer generated processes. We have then been able to transfer out designs onto individual looms; choosing weft and warp colours to begin our own creations. Watch this space for our finished fabric!
In January, Class 2 had a spectacular visit to the Yorkshire Museum to find out about the Anglo- Saxons and their impact on British history.
We met an Anglo-Saxon, called Oshere, who allowed us to examine many fascinating artefacts. To keep these precious items safe from damage and grease, we wore special white gloves.
Along with our very own guest historians, Mr Rodmell and Mr Vernon, we were able to try our hands at some Anglo-Saxon crafts and activities; weaving, braiding, silver work, ink and quill practice and original games.
Our experience was completed with a whistle stop tour of the museum which charters the history of York from pre-historic times, through the Roman occupation and onwards to the Anglo-Saxons, Vikings and Normans. We all agreed that there was so much to see and do, another visit was definitely needed.
On Monday, March 13th, Mr Steven Burgess from Lockington Village Improvement Group helped year 6 pupils to plant a range of hedgerow plants which were generously donated by the Woodland Tree Trust.
He kindly explained how to plant them and gave us valuable tips, we decided to plant them near the metal fence to help improve the appearance of the front of the school. Please watch them grow into a beautiful hedge
In class 2, our autumn history topic of The Railway Revolution has concluded with an amazing homework project. Just look at the range of engines made at home with some help from mums, dads and grandpas! They all fit on our track, made to exact measurements in DT. Some trains moved and some were even independent travellers!
~~~~~~~~~~~~~~~~~~~~~~~~~~~~~~~~~~~~~~~~~~~~~~~~~~~~~~~~~~~~~~~~~~~~~~~~~~~~~~~~~~
In November, we had a wonderful visit from Mr Marshman who shared his extensive knowledge on railways as he was a top railway engineer and has fascinating facts to tell. He brought us right up to date, in fact into the future, by telling us all about the Crossrail project. This amazing feat of engineering in set to open in 2020 and will provide a fast route under London. We went outside to mark out the size of the immense tool used to dig the tunnels.
Year 3, 4 and 5 enjoyed a visit to All Saints Church, North Ferriby
A Taste of History - Greek Day
We welcomed 'A Taste of History' into school on Friday 11th March. Everyone joined in cooking some fabulous Greek dishes including tzatziki (cucumber dip), souzoukakia (meat rissoles) and fakes soupa (lentil soup). The best part was when we all got to taste a whole range of traditional food which almost everyone tried… even the squid!
In the afternoon we created our own versions of the Parthenon in art and performed a dance of Theseus and the Minotaur to our parents. They even got to taste some of our Greek delights.
What a fantastic day!
The whole school has been learning about school values and we have decided to make our own Stained Glass Windows based on the School Christian Values.
One of our Year 6 students has reported on the progress Stained Glass Windows